The art world has had numerous moments where controversy has stormed blustery, vicious, cold and tumultuous, and like all storms: it passes, the world goes about its business with the wheels of progress never stopping, freshly galvanised and lubricated from the abrupt stop it came to earlier.
Years ago there was the beer crate fiasco, then there was the dildo shaped
batons
, the embalmed shark, the human
excrement
, and now... literal rubbish.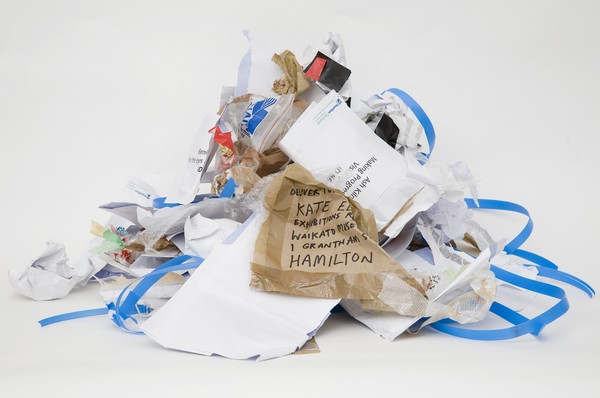 Made from the packaging of other entrants, and done via the webs without any consultation "Collateral" by Dane Mitchell won the Trust
Waikato
National Contemporary Art Award and is the fresh storm brewing in the art world - or at least NZ for at least the time being. As far as the art work goes one has to admire the simplicity of it, and the sheer - for lack of a better word - balls. What always surprises me about these works is the arguments over the
internets
. Check out the herald's
your views
for amazing, well thought out analysis of what art is, and why this is a great piece of art because we're talking about art, or why this is awful because my three year-old son could have done a better job, and pearls of wisdom from the likes of ALISHA091 from Auckland who offers a wonderfully concise comment taken verbatim from the site so as to not detract from artistic merit, '
TRASH! Who were the judges? The locals on K road?'

A wise man once told me that, "a retard debates art's

worthiness

, and a true imbecile offers an opinion. A wise man would do well to stand back and watch them both squirm."